When eggnog is on tap, it is far too difficult to choose just one party drink. So, for those looking for new and innovative ways to enjoy your festive eggnog look no further! Here are some pretty wild and daring beverage recipes that are sure to grab attention from all those you share it with!
---
1. Santa's Surprise
Mix two parts eggnog with one part candy cane liqueur.
Add a splash of cold beef broth and toss in some ice cubes to chill
Garnish with a handful of green peas and a candy cane for festive holiday colour. Enjoy!
---
2. Cozy Noggy Christmas
Mix about 4 ounces of eggnog with one ounce of Southern Comfort and a half ounce of chocolate liqueur. Serve with chocolate flakes!
---
3. Holiday Surprise
This one will take a punch bowl! Get 5 bananas and cut them into thin slices – place them into a punch bowl. Add in one gallon of eggnog and one quart of eggnog ice cream (or vanilla). Mix in half a mickey of Jack Daniel's and a half mickey of your favourite vodka and then enjoy!
---
4. GingerNog
Mix well one ounce of Goldschlager with one and a half ounces each of: Irish Cream, vodka, and butterscotch Schnapps.
Place into a snifter glass and add eggnog to fill.
---
5. Eggnog the Jägermeister Way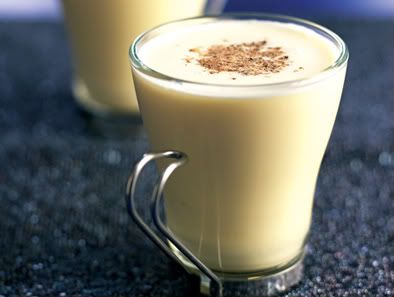 Mix together one part Jägermeister with one part eggnog and add in a sprinkle of cinnamon.
---
Mix All the following ingredients well:
1 pint of coconut rum
1 can of coconut milk
1 can condensed milk
1 can cream of coconut
1 pint of eggnog
Dash each of cinnamon and nutmeg.
Down the hatch mateys!
---
7. RumNog
Take 4 ounces of your favourite light or dark rum and add 12 ounces of milk or cream. Mix well and add 2 teaspoons of powdered sugar, 2 eggs and a couple of pinches of nutmeg.
---
8. SchnapNog
This one is pretty easy to toss together!
In your 8 ounce of eggnog add one shot of Schnapps! It's that simple!
---
9. Whiskey Eggnog
Take 8 ounces of milk and add 2 ounces of your favourite whiskey.
Add in 1 teaspoon of powdered sugar, an egg and some nutmeg for a spicy flavor.
---
10. Eggnog Supreme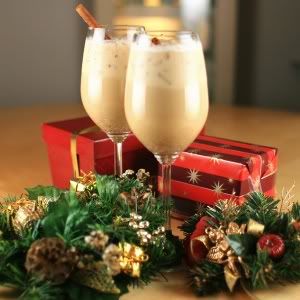 Go grab your highball glass and pour in some eggnog. Leave just enough room to add in one ounce of Grand Marnier and a half ounce of white Crème de Cacao.
---
Hope you enjoyed our Eggnog recipes, Let us know what you think!
GD Star Rating
loading...
GD Star Rating
loading...